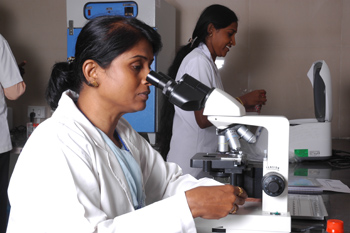 1. History
The college was established in the year 2012. Department of Microbiology started functioning from January 2013 under the able guidance of Dr Rajini. M, the Head of department. In preparation for the letter of permission from the Medical council of India, the team of Microbiology was responsible for establishing the diagnostic service laboratories in the hospital, which included procuring of the required equipments and maintaining of the registers for the services provided. The team has also worked together in setting up the research laboratory, undergraduate practical laboratory and museum in the college block. A great effort has been put into the planning and preparation of the UG practical record which is according to the RGUHS curriculum. The academic session for our department commenced from September 2015 and teachers were allotted the theory and practical classes. The first batch of students took up final examination in January 2016 and the students performed extremely well with an achievement of pass percentage of 99.

2.Vision
The Department of Medical Microbiology is an integrated team of investigators, educators and practitioners providing leading edge education to both undergraduate and post graduate students and to emerge as a centre of higher learning excellence in microbiology.
Provide state-of-the-art diagnostic Microbiology services effectively as measured by cost and turnaround time.
To escalate the research activities by involving faculty and students
To encourage the extension services by involving students and faculty.
3. Mission
The Department of Microbiology is committed to provide service, research, education and training of quality in the field of Medical Microbiology. The department is making an all round effort to provide
1. Newer diagnostic services for better patient care, upgraded training program for the students: both undergraduates and postgraduates, and a congenial environment for research and innovation. Our Mission is to develop compassionate, ethically sound health professionals and provide service of the highest order across the health care continuum, through Innovations in education that yield lifelong learners and leaders in health care.
2. Original research in basic sciences and patient oriented discoveries.
3. Encouraging creative young minds to reach their fullest potential.
4.The Department of Microbiology aims to function with the core values:

Excellence in everything we do.
Respect for ourselves and others.
Professionalism at all times.
Commitment to all staff and the community

4. Objectives
To develop state of art facility, in terms of quality infrastructure and trained manpower so as to enable the students of medical microbiology to appreciate the aetiology, immuno- pathogenesis and laboratory diagnosis of common infections and immune mediated diseases.

To deliver timely and quality diagnostic services to patients.

To create an environment for need based quality research among faculty and students.

5. Details of Heads of Department:
| | | | |
| --- | --- | --- | --- |
| SI NO | Name of HOD | From | To |
| 1 | Dr. Rajini. M | January 2013 | Till date |
6. Contact Information( Department Mail Id, Extension Contact No)
Email Id: [email protected]
Extension Contact No College: 196
Extension Contact No Laboratory: 172

7. Faculty
| | | |
| --- | --- | --- |
| SI no | Name of the Faculty | Designation |
| 1 | Dr Rajini M | Professor and Head |
| 2 | Dr Sreekanth B | Associate Professor |
| 3 | Dr Dhanalaxmi A | Associate Professor |
| 4 | Dr Trupthi Gowda | Assistant Professor |
| 5 | Dr Uma B M | Assistant Professor |
| 6 | Mr. Govinda Amarendra | Tutor |
| 7 | Ms Prabina | Tutor |
8. E- Learning Resources
Adequate E- Learning resources available at the Central Library.
9. Infrastructure
Facilities are available as per the MCI norms with fully equipped and functional department with the Staff rooms, 7 service labs, an Undergraduate practical lab.

10. CME Programmes and Activities
1. Our first Continuous Medical Education program, Universal Precautions, Sample collection, and Biomedical Waste Management for Nurses was conducted on 17th December 2015. The CME was attended by 58 nurses from The Oxford College of nursing, The Indian College of Nursing and Sri Venkateshwara college of Nursing.
Our second Scientific event was HIV Sensitization Programme by KSAPS, in association with ICTC on 21/03/2019. This Program was jointly organized by Department of Community Medicine and Department of Microbiology in collaboration with KSAPS.

The most recent academic event conducted by the Department of Microbiology was the CME on HIV UPDATE on 04/04/2019.

11.Awards and Achievements, Publications
The faculty, have participated in various extra-curricular activities conducted at the TOMCH & RC as follows,
The staff actively participated in the Inaugural dance for the Cultural Day in the year 2014.
Dr Dhanalaxmi A participated in the Creative Writing Competition and won the First place during cultural events 2018.

Dr Rajini & Dr Trupthi and Dr Manjula participated in the Cooking without Fire Competition and shared the First place with Dr Pritibala and team during cultural events 2018.

Dr Pritibala with her team participated in Rangoli competition and won the second place during cultural events 2018.

The faculty have also actively participated in the sports events conducted at TOMCH & RC as follows,

Dr Rajini participated in Table- tennis and has been the runner-up consecutively for two yrs, 2015 and 2016. Dr Rajini has participated in Carrom Competition and has been the winner in 2015 and runner-up in the year 2016.

Dr Trupthi participated in badminton and has been the runner-up in 2016.

Dr Trupthi & team participated and was the runner-up team in Throw-ball during the Founder Chairman Memorial Tournament -2019.
LIST OF PUBLICATIONS OF THE PG TEACHERS
SI No
Faculty
Publications
Indexation
1
Dr Rajini
1. Prasad S R, M Rajini. Suppurative lesion due to Salmonella typhi. Letter to editor;J academy of clin.micro.2005:47-482. M Rajini, Prasad S R, RR Reddy, RV Bhat, KR Vimala. Postoperative infection of laparoscopic surgery wound due to Mycobaterium chelonae. Ind. J. med. Micro. 2007;25:163-1653. Prasad S R, M Rajini. Leptospirosis:An overview. J Academy of clin. Micro. 2008;10: 89-97.4. Sanjeev H, M Rajini, Prasad SR. Human Dirofilariasis: An uncommon case of subcutaneous infection with Dirofilaria repens with a brief review of literature. Nitte univ. J health scie.2011; 1:60-62.5. Venigalla sunita, M Rajini, Prasad S R. Chlamydia in reproductive tract infections:Scenario in kolar region. Int J Biol Med Res. 2012;3: 1303-1306.6. R Kalyani, SR Sheela, M Rajini. Cytological diagnosis of tuberculous cervicitis: a case report with review of literature.J cytology.2012; 29:86-89.7. R. Deepthi, S R Sandeep, M Rajini. Cholera outbreak in a village in south India-Timely action saved lives.J infect. & Public health. 2013:6:35-40.8. Krishnappa J, Ranganath B G, M Rajini. Clinico-Epidemiological profile of Leptospirosis among children in Kolar, southern India. J Clin Biomed Sci 2012; 2:134-140 9. Gowda T, M Rajini , Hosthota. A.Microbiological profile of dermatophyte infections in a tertiary care hospital.J Evolution of Med. Dent.Sci 2018;7:67-70.
10. Dhanalaxmi A, Trupthi G, M Rajini. Bacterial contamination of hands and anterior nares of health care professionals attending ICU at a tertiary care hospital in South India. Int J Contemporary Microbiology. 2018;4:38-42. 11. Hosthota A, Gowda T, M Rajini. Clinical profile and risk factors of dermatophytoses: A hospital based study. Int J Res Dermatol. 2018; 4: 1-512. Uma B .M, Bindushree, R , Rajini M. Identification and Speciation of Malassezia isolated from Tinea Versicolor cases in a Tertiary care hospital in Karnataka. Int J Contemporary Microbiology.
Index CopernicusIndex Medicus, ScopusIndex CopernicusIndex CopernicusIndex Copernicus
Medline Plus, Research gate
Pubmed
ScopusIndex Copernicus, J GateIndex MedicusIndex CopernicusIndex Copernicus,,Index CopernicusIndex CopernicusIndex Copernicus
2
Dr Sreekanth

Evaluation of Blood Smears, Quantitative Buffy Coat and Rapid Diagnostic Tests in the Diagnosis of Malaria. J Bacteriol Parasitol 2011; 2(8).

The Rate of Tuberculosis in HIV positive patients in Relation to CD4 Count. J Evolution of Med and Dent Sci. 2013:3(15):3919-22.

Hepatitis B and C in healthcare workers: prevalence, relation to vaccination and occupational factors. J Evolution of Med and Dent Sci 2014; 3(15):3919-22.

Antibiotic profile of Pseudomonas Aeruginosa isolated from various clinical samples in DM WIMS, Hospital, Kerala. J Evolution of Med and Dent Sci 2014; 3(19):5090-92.

Detection of Inducible Clindamycin resistance in Staphylococcous isolates. Ind J App Res 2014; 4(6):442-43.

Detection of extended spectrum β-lactamases (ESBLS) in Clinical Isolates. Int J of Med Sci and Pub Health.

Index CopernicusIndex CopernicusIndex CopernicusIndex CopernicusIndex CopernicusIndex Copernicus
3
Dr Dhanalaxmi
1. Uma B M, Dhanalaxmi A .Multidrug Resistant Bacteria Creeping into a newly set-up Teaching Hospital - Time to Intervene. International Journal of Microbiology Research 2019; 11(5): 1565-68.2. Dhanalaxmi A, Trupthi G, M Rajini. Bacterial contamination of hands and anterior nares of health care professionals attending ICU at a tertiary care hospital in South India. Int J Contemporary Microbiology. 2018;4:38-42.3. N Shruthi, A Dhanalaxmi, R Rajendran. Use of 16S rRNA gene based sequencing for identification of Oligela urethralis that was misidentified as Francisella tularensis by automated system. JMM Case Rep; vol.2 (10) 2015.4. A Dhanalaxmi, Shruthi N, R Rajendran N. Anti-cyclic citrullinated peptide antibodies: Clinical utility &their role as early prognostic markers in Erosive Rheumatoid arthritis. Int. J. Biomed. Res;2015: 391-394.5. A Dhanalaxmi, Shruthi N, R Rajendran N. Prevalence of Methicillin resistance in Staphylococcal blood isolates & correlation with Vancomycin MIC: A study from tertiary care hospital. Int J Curr Microbiol App Sci 2015; 4(8):716-22.6. A Dhanalaxmi , Subba Rama Prasad, Khaji Mohhammed Tanveer, Srinivasa Rao. Brucella infections in high-risk population and in patients hospitalized for fever:A serological study at Kolar, Karnataka. Annals of Tropical Medicine & public health;2013:549-553.
Index CopernicusIndex CopernicusPubmed Central, Cross ref, Road, ScopusIndex Copernicus
, Cross refIndex Copernicus
,Google Scholar, Cross ref,Pubmed central,Scopus, Google Scholar.
4.

Dr Trupthi Gowda
1.Gowda T, Prasad SR, Gupta S, Srinivasa H, Beena PM. Infections by carbapenamase producing Enterobacteriaceae in rural tertiary care hospital, Karnataka: Prevalence, treatment options & outcome. Int. J Health Sci & Res; 2015: 90-962. Gowda T, Manikonda R, Hosthota. A. Microbiological profile of dermatophyte infections in a tertiary care hospital Evolution Med. Dent.Sci 2018;7:67-70.3. Dhanalaxmi A, Trupthi G, Rajini M. Bacterial contamination of hands and anterior nares of health care professionals attending ICU at a tertiary care hospital in South India. Int J Contemporary Microbiology. 2018;4:38-42.4 Hosthota A, Gowda T, Manikonda R. Clinical profile and risk factors of dermatophytoses: A hospital based study. Int J Res Dermatol. 2018; 4: 1-5.
Index CopernicusIndex CopernicusIndex CopernicusIndex Copernicus
5.
Dr. Uma B M
1. Gas gangrene following intramuscular injections: one hundred and fifty years reviews & case report. Int. J Medicine & medical sciences;2013: 1163-11692. Clostridium difficile: A neglected, but emerging pathogen. India Archives of clinical Microbiology; 2015: Vol6:1-5.3. Uma B M, Dhanalaxmi A .Multidrug Resistant Bacteria Creeping into a newly set-up Teaching Hospital - Time to Intervene. International Journal of Microbiology Research 2019; 11(5): 1565-68.4. Uma B .M, Bindushree, R , Rajini M. Identification and Speciation of Malassezia isolated from Tinea Versicolor cases in a Tertiary care hospital in Karnataka. Int J Contemporary Microbiology.
Index Copernicus
Index CopernicusIndex CopernicusIndex Copernicus
ON GOING RESEARCH PROJECTS
1. Asymptomatic bacteriuria and its Antibiotic susceptibility patterns among pregnant women in a tertiary care centre.
Principal author: Dr.Trupthi Gowda Co author: Dr. Rajini.M
Associate Prof prof & head
Dept of Microbiology. Dept of Microbiology
2. Multidrug Resistant Uropathogens: Susceptibility pattern with special reference to Fosfomycin.
Principal author: Dr.Dhanalaxmi.A Co author: Dr. Rajini.M
Associate Prof prof & head
Dept of Microbiology. Dept of Microbiology