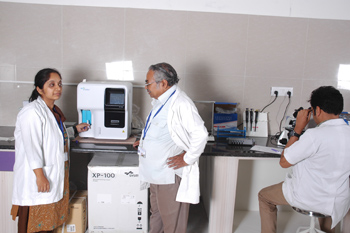 DEPARTMENT OF PATHOLOGY

HISTORY of the department:
The Pathology department stated in 2013 and took many strides to establish as a full fledge department. 2014-15 MBBS batch was received as first batch in the department. And now in 2019 is ready to become a PG department.

VISION:
Enabling delivery of quality healthcare through diagnostic and academic activities.
MISSION:
To serve the patients with reliable and accurate reports and there by contributing in providing a quality healthcare.
To teach the doctors of tomorrow with interactive and innovative methods.
OBJECTIVES;
To provide wide range of diagnostic services: biopsy (Histopathology), fine needle aspiration cytology, pap smear study ,body fluid cytology for malignant cells (cytopathology)and investigations for detection of anaemias and coagulopathies (haematology)

To teach the MBBS student with basic concepts of disease process and facilitate his efficient learning of clinical subjects in final year
DETAILS OF head of the Department
Qualification
University
Medical College
Year of passing
MD
Pathology
Rajiv Gandhi University of health Sciences, Bangalore
Karnataka Institute of
Medical Sciences,
Hubli
April 2006
MBBS
Bangalore University,
Bangalore.
Sri Devraj urs medical collage, Kolar
April 1999
Experience
Date
Total Period
Designation
INSTITUTION
13-6-2006 to 30-9-2008
2 years 3 months
Assistant
Professor
PES Institute of Medical Sciences and Research, Kuppam, Chittoor (district), Andra Pradesh- 517425
1-9-2008 to 20-12-2009
1 Year
4 month
Assistant
Professor
Vydehi Institute of Medical Sciences and Research Centre, # 82, E.P.I.P. Area, Whitefield, Bangalore- 560 066
04-01-2010 to 30-06-2011
1 Years
6 months
Assistant Professor
Aarupadai Veedu Medical Collage and Hospital, Pondicherry
01-07-2011 to 24-07-2015
4 years
24 days
Associate Professor
Aarupadai Veedu Medical College and Hospital, Kirumampakkam, Pondicherry-607402
25-07-2015 to 30.08.2016
1yr 1month
Professor & Head
Dhanalakshmi Srinivasn Medical College & Hospital, Siruvachur, Perambalur, Tamilnadu- 621113
01.09.2016
Till date
Professor & Head
The Oxford medical college, Hospital & Research centre, Hosur road, Yadavanahalli, Attibele Hobli, Anekal Taluk, Bangalore-562 107

Contact information:
Email ID- [email protected]
Extention- Not provided
Faculty:
Professor- Dr Amrit kaur
Assoc Prof- Dr Kumari Jyothi
Assit Prof- Dr Jaya, Dr Jyothi, Dr Uma, Dr Ranjeeta
Demontrators- Dr Spoorthi, Dr Subashini
E Learning resources:
PPTs of all the topics
Awards & achievements: "Achiever in rising star category" award to Dr Amrit Kaur Kaler at Times healthcare achievers Bengaluru 2018
Any other relevant: Being upgraded to PG department with addition of facilities like frozen section and Immunohistochemistry